Welcome to Marianda Press, the site featuring the work of author Marisa Bonilla (Mary Page) and illustrator/designer Tony De Luz. We offer bilingual (English/Spanish) books, such as Coyote Rings the Bell, a lighthearted romp, Rimas Infantiles, a compendium of Spanish-language nursery rhymes, and Hotel Summer, an autobiographical piece about Mary's growing up in the 1930's in her grandparents' hotel in Salinas, CA.
There are always new upcoming projects, so check back often!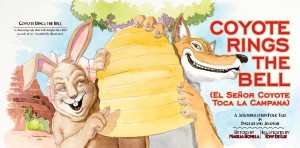 Click on the links above to learn more about us and our projects. If you are a literary agent, we are interested in obtaining representation. If you like what you see, contact us!
You can buy Marianda Press books online at CreateSpace or Amazon. At the bottom of each page there are links to purchase the books.
MARISA BONILLA'S NEWEST, "SPAIN REVISITED," IS NOW AVAILABLE! CLICK HERE FOR DETAILS!